Proposal
Associated Engineering, on behalf of Impact Asphalt and Concrete Crushing Ltd., has applied to amend the current IH – Heavy Industrial District Zoning Agreement (Bylaw No. 9513) at 305510 Township Road 380 as shown on the map below.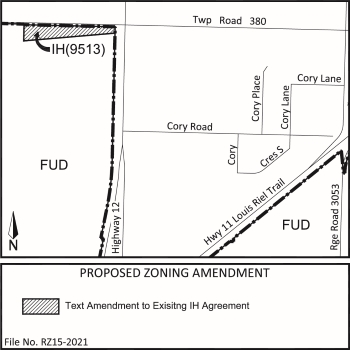 The current Zoning Agreement limits permitted land uses on this site to the following:
Short-term storage, processing and redistribution of:

Concrete
Concrete with steel
Granite
Asphalt
Asphalt shingles
Dirt and gravel

Disposal, evacuation, processing and storage of recycled hydrovac materials; and
Cold storage with a maximum gross floor area of 1,400 square metres.
The proposed text amendment to the current Zoning Agreement would permit the following additional uses:
Short-term storage, processing and redistribution of construction materials, including:

Metals
Vinyl siding
Plastics from home, commercial and farm construction
Masonry
Brick and stone (not including stucco)
Quartz
Porcelain
Wood
Gypsum
Flooring including tile and terrazzo (non-asbestos and not including carpet or wood flooring)
The above list would exclude any hazardous materials. All other provisions of the current Zoning Agreement and Zoning Bylaw No. 8770, 2009 (Zoning Bylaw) will continue to apply.
The expansion of current operations would result in an additional two employees onsite, and ten additional vehicle trips per day. No additional hard-surfaced parking spaces would result from the proposed amendments to the current Zoning Agreement. The recycling of plastics would also require 24-hour supervision, as this process involves heating.
Provide Feedback
Questions and comments on this proposal are invited at this time by contacting: 
Due to the COVID-19 epidemic, the City of Saskatoon is conducting all engagement activities virtually and through mail outs at this time.