Public and stakeholder engagement in 2022 was an important stage in the development of a regulatory framework for a shared electric scooter (e-scooter) program in Saskatoon. City Councill approved the Shared Electric Kick Scooter Pilot Program Project on November 21, 2022. The pilot project is planned to begin in Spring 2023 with more details available once the e-scooter rental companies contracts are awarded.
Public engagement is now closed for this project. 
Approved framework for pilot project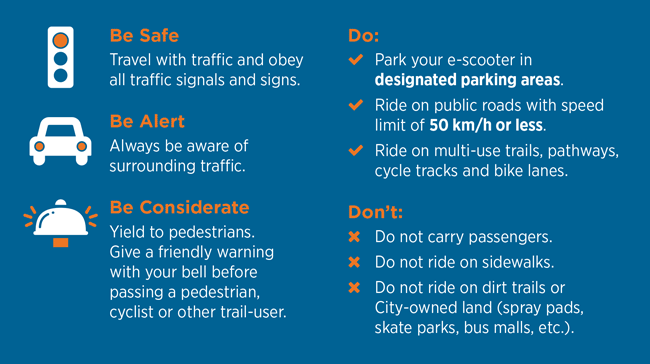 Public engagement
The Final What We Heard Report summarizes the feedback collected from both phases of engagement. 
During Phase 1, we collected input from stakeholders, the public and e-scooter companies to address the rules, requirements and other factors necessary for shared e-scooters to work here. You can read more about what we heard in Phase 1 in the What We Heard Report - Phase 1.   
During Phase 2, we collected input on the draft regulatory framework for shared e-scooters to operate in Saskatoon. Read the highlights of the Draft Regulatory Framework for E-Scooters. Thank you to everyone who participated; feedback submitted by September 29, 2022 was considered in Phase 2 of the engagement process.