Discretionary Use Proposal
Yehia Diab has applied for Discretionary Use approval to continue to increase the number of residents from 9 to 15 in the existing Residential Care Home - Type II located at 3230 Mountbatten Street in the Montgomery Place neighbourhood. Subject to Discretionary Use approval, the capacity of the existing Residential Care Home – Type II at 3230 Mountbatten Street will be increased to accommodate a maximum of fifteen (15) residents and two (2) staff members. Five on-site parking spaces are required and five will be provided on the property's front driveway and in the attached garage. This application has been reviewed for compliance with requirements under the Zoning Bylaw.
This site is zoned R2- One and Two Unit Residential District under Bylaw No. 8770, The City of Saskatoon Zoning Bylaw (Zoning Bylaw). This zoning district permits residential development in the form of one and two-unit dwellings as well as related community uses. A Residential Care Home - Type II is considered a Discretionary Use in the R2 District.
Location Map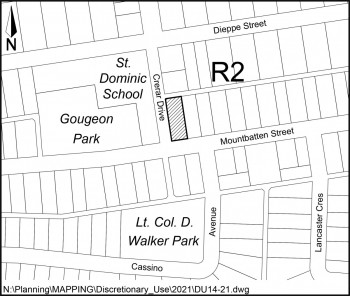 Provide Feedback
Questions and comments on this proposal are invited at this time by contacting: 
Nik Kinzel-Cadrin, Planner

 
nik.kinzel-cadrin@saskatoon.ca
306.986.3697
Due to the COVID-19 epidemic, the City of Saskatoon is conducting all engagement activities virtually and through mail outs at this time.