Discretionary Use Proposal
A Discretionary Use application has been submitted requesting approval to develop a short-term rental property at 501 Avenue M North in the Westmount neighbourhood. If approved by Administration, 501 Avenue M North will be permitted to operate as a short-term rental property for up to six guests at any one time accommodated for 30 days or less. One off street parking stall is required and two are provided for on the driveway located in the side yard of the property.  No construction or alterations are proposed as part of this application.
This site is zoned R2 – One and Two-Unit Residential District under Bylaw No. 8770, The City of Saskatoon Zoning Bylaw. The purpose of the R2 District is to provide for development in the form of one and two-unit dwellings as well as related community uses. A short-term rental property is considered a Discretionary Use in the R2 District. 
Location Map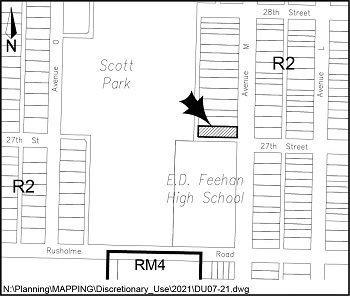 Provide Feedback
Questions and comments on this proposal are invited at this time by contacting
Tanner Halonen, Planner
tanner.halonen@saskatoon.ca 
306-986-3699
Based on the response to this proposal, the next steps in the engagement process will be determined.