Changes to green cart collection program
The City of Saskatoon has moved to a city-wide green cart program, ending the previous subscription based program. Every household with black and blue carts is part of the program. Green cart collection began May 1, 2023. 
Residents who use large communal garbage and recycling bins (typically those living in condos and apartments) are not affected by these changes. A program is being developed by the City for these residents. 
Why We Need a Green Cart Program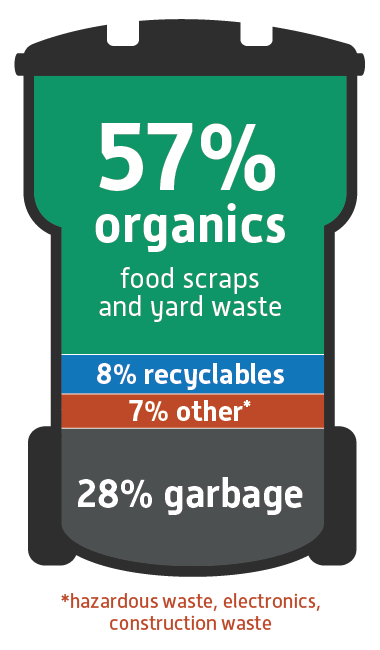 Food and yard waste disposed of in black carts and at the landfill does not become soil. Landfills bury waste without oxygen, so when it is broken down, it turns into leachate (garbage juice) and methane. Leachate pollutes our land and water, and methane is a powerful greenhouse gas that can escape into the atmosphere. Leachate and methane are expensive for the City to manage.
More than half of what we throw in the garbage can go into the green cart. Instead of putting food and yard waste into your black cart, it can be put in the green cart and turned into something useful – compost!
By diverting organic waste away from the landfill, we can delay or even avoid the expense of building a second landfill, reduce greenhouse gas emissions, and reduce environmental pollution.
Jump to Frequently Asked Questions
Green Cart Program Fees
Beginning May 2023, a monthly average utility fee of $6.73 for the green cart program will be applied to City utility bills for single-family homes. Every household with black and blue carts will be part of the program. The fee covers collection, composting, cart maintenance, education programs and program management. More information on billing can be found at saskatoon.ca/utilityrates.
Residents who use large communal garbage and recycling bins (typically those living in condos and apartments) are not affected by these changes. A program is being developed by the City for these residents. 
The City of Saskatoon provides waste services to all single-family home residents. To fund these services, residents pay a monthly utility rate on their utility bill. Since black cart collection is continuing as biweekly, even in the summer, using your green cart will help to keep your black cart from overfilling. Over half of what was collected in black carts will belong in the new green cart, so you should see a reduction in the amount of garbage in your black cart.
If you are a home composter, you will be pleased to know that food waste like bones, grease and dairy products are now accepted in the green cart, so you can continue with home composting while diverting remaining food waste from the landfill.
Green Cart Collection Schedule and Use
Check your collection calendar and sign up for reminders or download the Saskatoon Waste Wizard app. Note that black cart collection will continue as biweekly, even in the summer months. 
For the subscribers who already have a green cart, please continue using the cart as you have been, but note that the carts can now accept bones, grease, dairy and other items that were previously not allowed. 
Your kitchen pail and the Saskatoon Waste Wizard app will have the most up-to-date and detailed list of what can and cannot go into your green cart. 
Placement and Collection of Your Green Cart
Starting in May 2023, all green carts will be collected from the same location as your blue and black carts.
Note, for some subscribers this will be a switch from front street to back lane if their blue and back carts are collected in the back lane.  
Cart usage, placement, and maintenance will be the same for the green cart as your blue and black carts. See saskatoon.ca/cartcare for more information on cart care and placement for successful collections.
What goes in your Green Cart?
Use the Saskatoon Waste Wizard app to check if an item should be put into your blue, green or black cart, or if it's appropriate for drop off as hazardous waste. 
The new city-wide green cart program will have an increased service level, accepting more food and yard waste as well as being collected year-round, than the previous subscription service. 
Do not use plastic bags. Please place your yard and food waste directly into your green cart or use a BPI-certified compostable or 100% paper bin liner. 
Watch Educational Video Series
Items in GREEN are acceptable for your new green cart:
Unbagged Yard Waste

Fruit and Vegetables

Bread, Noodles and Other Grains

Coffee Grounds, Paper Filters and Paper Teabags

Eggs and Eggshells

Food-Soiled Paper Products

Meat and Seafood

 

Dairy Products
(yogurt, butter and cheese)

Solidified Fats and Food Grease

Baked Goods

 

BPI-Certified Compostable Bags

 

 
Items in BLACK or BLUE are NOT acceptable for your new green cart:
| | | |
| --- | --- | --- |
| Pet Waste and Bags | Styrofoam | Diapers and Hygiene Products |
| Plastic Bags and Packaging  | Elm Wood | Glass and Metal Packaging |
How do I use the kitchen pail?
A kitchen pail starter kit was delivered to all eligible households (including past participants of the subscription program). The kitchen pail included important program information and a roll of Biodegradable Products Institute (BPI) certified compostable pail liners.
Keep your kitchen catcher in a convenient place, such as under your sink. Before filling your kitchen pail with food scraps, you may choose to line it with one of the provided bags or use a paper liner to reduce moisture and odors. Only BPI-certified compostable or paper liners can be used. Just scrape your plate or cutting board! The kitchen catcher is a convenient way to divert food waste directly in your kitchen. 
Frequently Asked Questions
What size is the kitchen pail?

The kitchen pail has the capacity of 8L, dimensions as follows: length 11.5" x width 8.5" x height 9.25". 
How can I reduce odours and insects?

Indoors:

Collect food waste in your provided kitchen pail or a small container with a lid. Store it inside a cupboard, underneath your sink or outside your backdoor. Ensure the lid is fully closed.
Line your container with BPI-certified compostable or a paper liner, or simply wrap food in a newspaper or napkin to reduce moisture. Please do not use waxed, plastic, plastic-lined, or any non-certified BPI compostable or biodegradable bags.
Drain excess liquids, excluding cooking oil, from your food waste before placing in the container.
Freeze smelly food waste until collection day.
Empty the contents of your kitchen pail or container into your green cart as frequently as necessary.
Rinse your kitchen pail or container after emptying it into your green cart.
Sprinkle baking soda in the bottom of your kitchen pail or container to reduce odours and deter insects.
Catch fruit flies in a bowl of vinegar covered with plastic wrap, pricked with a few holes.

Outdoors:

Set your cart out for every collection, even if it isn't full.
Store your green cart outside in a shady, flat and ventilated location and keep lid fully closed.
Line your cart with newsprint, cardboard or yard waste before adding food waste.
Covering food waste with yard waste will help prevent odours and insects. Keep the contents of your cart dry by alternating a layer of food waste with a layer of dried leaves, grass clippings, or dead plants.
Let leaves, grass and yard waste dry out first before placing them into your cart.
Rinse your green cart occasionally with a garden hose. Pour contents onto your grass or gravel (never down the storm drain). Sprinkle a small amount of vinegar or baking soda into your green cart to reduce odours. 
If animals chew on the bin, rub peppermint oil, hot sauce, cayenne or chili powder on the chewed spot to deter other animals.
What if my cart is filling up too fast?

If your green cart is filling up before collection day, try following these simple tips:

Tips to reduce yard waste and create a healthier yard:

Keep your grass clippings on the lawn to add nutrients and retain moisture, also known as "grasscycling."
Work leaves directly into your garden soil or use them as mulch on your garden beds.
Take excess yard waste to one of the City's compost depots free of charge.
Compost excess yard waste using a backyard composting system.

Tips to reduce food waste:

Get creative: look for recipes that use foods you already have on hand.
Shop smart: don't buy more food than you can eat before it starts to spoil.
Store foods correctly so they last longer.
Look in your fridge, freezer and pantry before grocery shopping so you only buy what you need.
Create an "Almost Expired" section in your fridge and pantry to store items that have to be used quickly. Start your meal planning by looking through these items.
Freeze food for later use.
Keep track of what you throw away to get an idea of how much food you could be saving.
Compost excess food waste at home, by using a backyard or indoor composting system.

Green cart still filling up before collection day? Order a second cart for an additional fee by contacting Corporate Revenue: 306-975-2400 or revenue@saskatoon.ca.
What if contents are sticking or freezing to my cart?

Here are some tips to prevent and deal with content that may have become stuck or frozen in your green cart:

Line your cart with crumpled-up newspaper, paper bags or soiled pizza boxes.
Put grass clippings in paper yard waste bags.
Layer wet organics (food waste, grass clippings) with dry organics (leaves, newspaper, soiled pizza boxes).
Strain excess liquid from soups and sauces with a strainer and only place the solid pieces in the cart.
Wrap food with high moisture content in soiled boxes or newspapers.
Don't force the contents of the cart down.
Use the end of a broomstick to stir and loosen up material at the bottom of the cart.
If possible, give your cart a shake prior to rolling it out to dislodge any frozen contents.
Consider leaving your food waste in another container to allow it to freeze before putting it in your green cart.
What if I already compost? Why is the program city-wide?

It's great that 23% of people compost at least some of their waste at home, however, it's not for everyone, so we still need city-wide program to capture the remaining material going to landfill. The city-wide program will still be useful to home composters, as it accepts all the other food and yard waste that cannot be easily composted at home (e.g., meat, dairy, dressed salads) and also provides more capacity for material, which can be especially helpful during the heavy yard waste season.

Items
City-wide Green Cart Program
Discontinued Subscription  Based Green Cart
Backyard Composting
Compost Depot
Meat & seafood
✓
X
X
X
Dairy products
✓
X
X
X
Bones
✓
X
X
X
Solidified fats on mixed table scraps
✓
X
X
X
BPI certified pail liners
✓
X
X
X
Fruits & vegetables
✓
✓
✓
X
Eggs & eggshells
✓
✓
✓
X
Bread, noodles & grains
✓
✓
✓
X
Coffee grounds
✓
✓
✓
X
Food soiled paper
✓
✓
✓1
X
Unbagged yard waste
✓
✓
✓2
✓
Tree trimmings (over 60cm in length)
X
X
✓
✓
Tree trimmings (over 2cm in diameter)
X
X
✓
✓
Elm wood3
X
X
X
X

1This item may be better suited to the green cart
2Excess can go into the green cart
3Elm wood must be disposed of at the landfill

Curbside programs can work together with other waste diversion programs, such as home composting, to achieve efficient, large-scale waste diversion.

The City continues to support home composting through the compost coaching program, including rebates for home compost bins and support troubleshooting issues. 
What if I already use my garburator / garbage disposal for food scraps?

Garburator/garbage disposal are not effective ways for waste diversion as this process simply displaces the waste by having it go through the wastewater treatment process, which has adverse effects on the system itself. Any materials sent through this system are either screened and landfilled or mixed with biosolids to create a lower-quality soil amendment product than what is possible with direct organics processing through the green cart program. In addition, garburators use lots of water which costs residents money and disposal of fats, oils and greases (FOGs) in the sewers leads to higher maintenance requirements.
What is the monthly fee and what is it used for?

The monthly average utility fee is $6.73 for the green cart program. It's calculated using a rate of $0.2212 per day, so the amount on your bill will vary depending on the number of days in the month.

The monthly fee covers: 

Collection of food and yard waste from your home
Sorting and processing (composting) of material
Providing cart maintenance
Education, bylaw and program support

 
What if I don't want a green cart?

Residents are encouraged to try the service for at least a few months to see if it works for their household.  Each eligible household will be charged the utility fee, regardless of whether they choose to keep their green cart or not. Requests for cart removal will not be accepted until this Fall for the majority of properties. Note that black cart collection will continue as biweekly, even in the summer months. 
Where are the collected materials being processed?

Following a public procurement, the City awarded a contract to Green Prairie Environmental in September 2020 to provide organics processing services to support the City's Curbside Organics Program. Under the terms of the contract, GPE must be ready to receive materials on May 1, 2023.

It is the City Administration's understanding that GPE believed its property – where it planned to process the organic waste - was already within the approved RM zoning because GPE already operates a landfill for solid waste and has for the past 9 years at that location south of Saskatoon in the RM of Corman Park. 

The green cart project and contract were proceeding as planned and it was not until GPE applied to the RM for a routine building permit for its permanent facility (a coverall building) earlier this year that the question of discretionary use arose. Despite this development, GPE was encouraged because the RM Administration recommended the discretionary use at the GPE landfill property. With the RM Council's decision to deny GPE's application, the City now has an agreement with Loraas to accept and process organics materials on an interim basis starting while discussions progress with GPE on an alternate plan to fulfill their requirements under the contract

With the materials going to Loraas, there is no change to the type of materials that will be accepted and therefore, this plan is still in alignment to meet the City's waste diversion targets. Residents should know that any extra cost of the interim contingency plan will be carried by GPE and not the City.
Why aren't you accepting pet waste or diapers in the green cart?

While other municipalities have chosen to accept pet waste or diapers in their green cart programs, the City made the decision not to include them in our program at this time because it is a challenging material to accept as the finished compost may not meet (fecal coliform) standards outlined for Category A compost. Pet waste can also be challenging to process because it is often bagged, which can lead to plastic bag contamination if residents are not diligent in using compostable bags. Diapers contain a lot of plastic that would need to be removed and landfilled during processing. 

Once operational, the composting of additional materials can be tested within the composting facility to determine the ability of additional materials to fully breakdown, as well as impacts on contamination rates and meeting the Category A compost standard.