This application was approved by City Council at their meeting on September 27, 2021 (link to video).
Discretionary Use Proposal
A Discretionary Use application has been submitted from Laugh and Learn Childcare requesting approval to operate a child care centre for up to 12 children and 2 staff members at any given time at 946 Glacial Shores Manor in the Evergreen neighbourhood. 
Laugh and Learn Childcare currently operates as a licensed family child care home where daycare is provided to a maximum of 8 children. The existing single family home located at this site is the primary residence of the applicant and the proposed child care centre will operate as an accessory use to this dwelling.  Hours of operation will be from 7:00 a.m to 5:30 p.m Monday to Friday.
Two on-site parking spaces are required and four spaces are provided for in the attached garage and on the proposed driveway located in the front yard.  A fence will be constructed in the rear yard to meet outdoor play area requirements prescribed in the Zoning Bylaw.
Prior to operating, the applicant will obtain appropriate licensing and approval from the Ministry of Education, Early Years Branch.
This site is zoned R1A – One-Unit Residential District under Bylaw No. 8770, The City of Saskatoon Zoning Bylaw.  This zoning district allows residential development in the form of one-unit dwellings as well as related community uses.  A child care centre is considered a Discretionary Use in the R1A District.
Location Map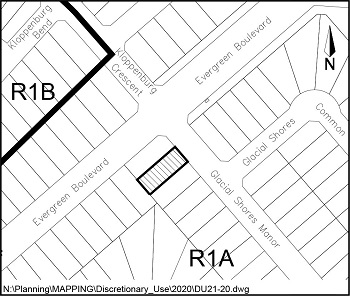 Provide Feedback
Questions on this proposal may be directed to: 
Anthony Wood, Planner
anthony.wood@saskatoon.ca
306.975.3323