These applications were approved by City Council at their meeting on August 30, 2021 (link to minutes).
Proposal
Crosby Hanna and Associates, representing S&C Wilson Land Holdings Ltd. (the applicant), has applied for a minor amendment to the Brighton Neighbourhood Concept Plan (Concept Plan) and to rezone a parcel bound by Brighton Gate, Owen Manor and McFaull Crescent, as shown on the maps below. The area subject to the proposed amendments has also been highlighted on the Amendment Area tab.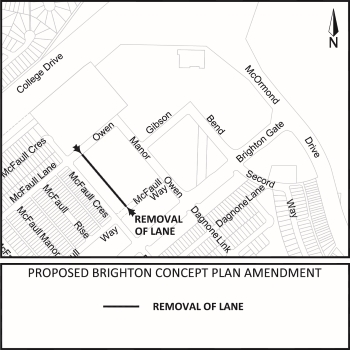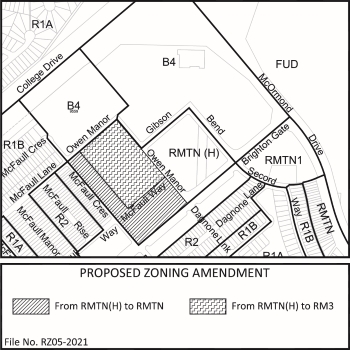 The proposed minor amendment to the Neighbourhood Concept Plan would provide for the removal of the rear lane between Owen Manor and McFaull Way.  Removal of the lane would allow for the development of street townhouses with front attached garages as opposed to rear detached garages. 
The parcel is currently undeveloped and zoned RMTN - Townhouse Residential District subject to the Holding Symbol (H). The applicant has proposed the removal of the Holding Symbol (H) from the site, and the rezoning of a portion of the site from RMTN to RM3 – Medium Density Multiple-Unit Dwelling District. The proposed zoning would provide for subdivision and development that aligns with the approved land uses for this area on the Concept Plan.
The purpose of the RMTN District is to provide for comprehensively planned low to medium density multiple-unit dwellings in the form of townhouses, dwelling groups, and other building forms, as well as related community uses.
The purpose of the RM3 District is to provide for a variety of residential developments in a medium density form as well as related community uses.
Provide Feedback
If you have any questions for the Planning and Development Department regarding these applications, please contact: