Amendment Package Six is anticipated to be presented to City Council in Spring 2023. The Zoning Bylaw Review Project team welcomes your comments and questions by email at zoningbylaw@saskatoon.ca.
The Zoning Bylaw is a regulatory document that facilitates implementation of the City of Saskatoon's Official Community Plan. All land in the City of Saskatoon is assigned a zoning district and subject to development standards associated with the zoning district. Parking, permitted uses, and setbacks are included in these regulations. The Zoning Bylaw Review project will undertake a review of the Zoning Bylaw to ensure that it meets the current and desired trends in commercial, residential and community development. It will also ensure that the Zoning Bylaw aligns with the City's sustainability goals and that it follows best practices.
Topics to be covered in Amendment Package Six include:
Additional Accessible Parking Review, as directed by Council on January 25, 2023
Amend the Environmental Area - the B5C - Riversdale Commercial District to permit residential uses
B4MX District Review
Environmental Review
Garden and Garage Suites in New Neighbourhoods
Revised Definitions for Alcohol Serving Establishments
Accessible Parking Review
The City of Saskatoon amended the Zoning Bylaw on January 25, 2023 to raise the standard for required accessible parking. Based on further direction from City Council, we are now pursuing additional amendments to the Zoning Bylaw to consider leading practices for the provision of required accessible off-street parking.
Requiring a higher ratio of the total number of spaces to be designated as accessible from about 2% of all required spaces to 4%, a recognized best practice;
Requiring  accessible parking spaces to be van accessible parking spaces; 
Increasing the required total width of the accessible parking space and access aisle, increasing each accessible space by 0.7 metres or 2.3 feet; and
Increasing the recommended minimum vertical clearance for accessible parking spaces from 2.0 metres to 2.75 metres, where it is not prohibitive. 
Residential Uses in the B5C - Riversdale Commercial District
The requirements for residential uses in the B5C Zoning District is currently being reviewed. The B5C - Riversdale Commercial Zoning District is generally applied along 20th Street West from Idylwyld Drive to Avenue J South. The B5C Zoning District was applied to the Riversdale Commercial Area, following completion of the Riversdale Local Area Plan. 
Within the B5C District there is an area designated as an Environmental Area which historically contained industrial uses. As there may be contamination, sites must be remediated before a residential use can locate on the site.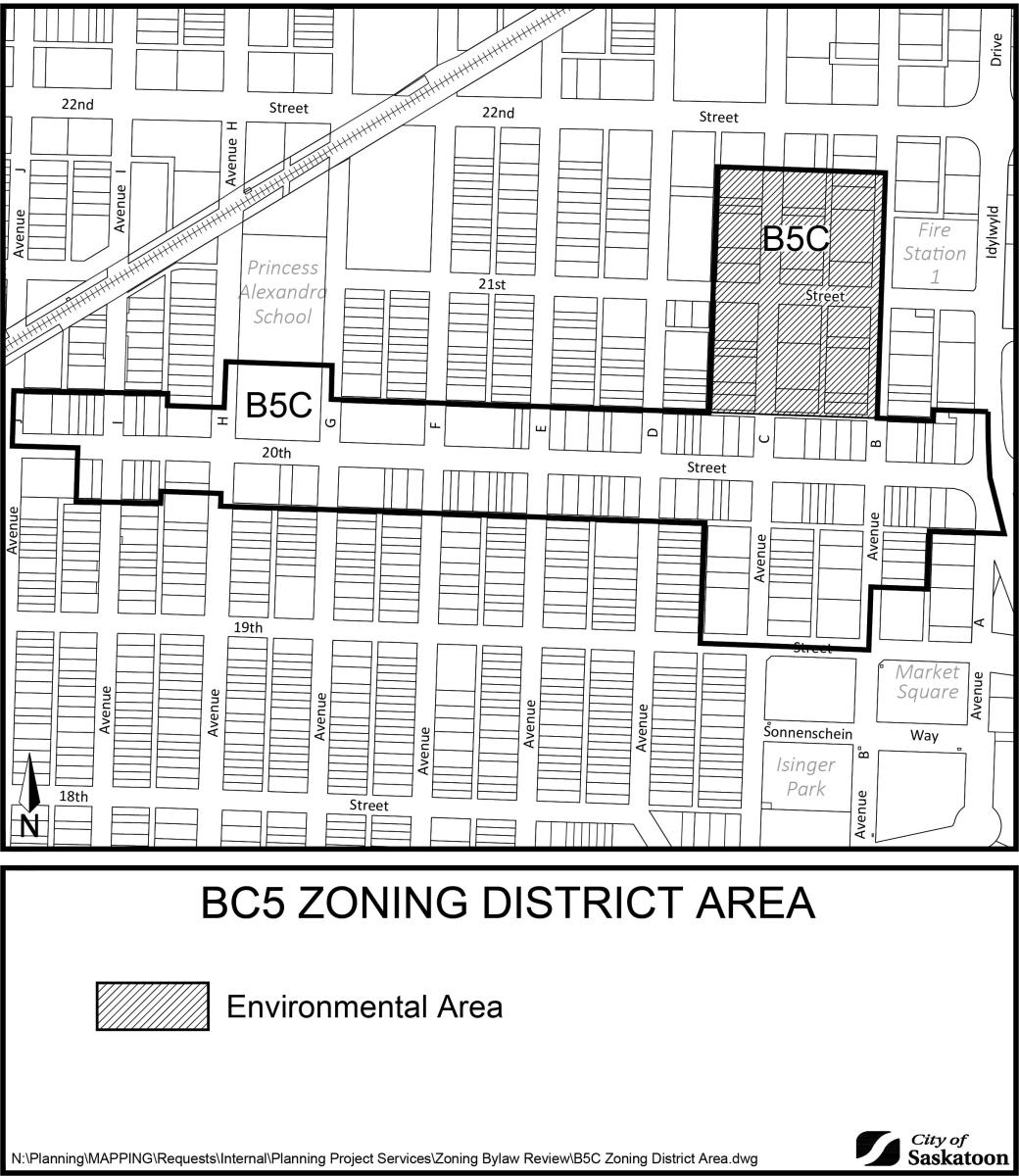 In the Environmental Area residential uses are currently discretionary. The amendment that is being proposed is to allow for residential uses to be permitted rather than discretionary. With this change, sites in this district will require environmental site remediation to ensure they meet residential standards, and an environmental site assessment (ESA) will be required with the building permit application. This proposed change will eliminate the current requirement for discretionary use approval from City Council and will substantially decrease application fees and processing time. 
B4MX - Integrated Commercial Mixed-Use District
The purpose of the B4MX District is to facilitate mixed-use development on principal streets. The B4MX District provides for a range of medium to high-density residential uses, commercial and institutional uses in a manner that encourages retail and service-based uses at grade level. The B4MX District promotes a compact, pedestrian-oriented built form that supports transportation options, street orientated buildings and active uses at grade level.
This district is currently being reviewed. Administration is pursuing amendments related to the following:  
Clarify the requirements for Active Frontage; where it is required and what is required.
Clarify under what circumstances or types of development a parking credit will be provided for on-street parking spaces towards required parking requirements.
Review required parking rates. 
Review the requirements for residential uses and locations for residential on the site.
Review the permitted and discretionary uses.
Review development standards for this district in alignment with the Official Community Plan, Aspen Ridge Neighbourhood Concept Plan, and other related policies. 
Environmental Initiatives
The project is reviewing options for amendments to support environmental actions identified in the Official Community Plan, Low Emissions Community Plan, Green Infrastructure Strategy, and the Renewable and Low-emissions Energy Implementation Plan.
The topics covered in the review include:
Green Buildings;
Green Roofs;
Low Impact Development;
Adaptive Reuse and Infill Development;
Parking Standards;
Electric Vehicle Parking Standards; and
Dark Sky Compliant Lighting.
Garden and Garage Suites in New Neighbourhoods
The City has identified the need to review the permitted building height and number of storeys of garden and garage suites in the newer neighbourhoods.
The previously completed neighbourhood level infill strategy identifies two categories of neighbourhoods that can be characterized broadly as pre-war, and post-war. These two categories of neighbourhoods have distinct characteristics and built forms that reflect the surrounding context. However, this strategy did not establish the distinction within the post-war (category 2) neighbourhoods, where the built form of some sites in the newer neighbourhoods more closely reflects the built form of the pre-war neighbourhoods (category 1).
To address these needs, the proposed amendments would:
Allow sites with rear lane access in the identified newer neighbourhoods (a new category 3) to build garden and garage suites to be 2 storeys, in line with the existing category 1 regulations
Include housekeeping updates to improve clarity
The neighbourhoods that are being considered in this review include: Aspen Ridge, Brighton, Evergreen, Hampton Village, Kensington, Rosewood, Stonebridge, Willowgrove, and any new residential neighbourhood with an approved concept plan after the adoption of this bylaw. 
Contact the City
You are welcome to provide your comments and questions by email, telephone or mail using the contact information below:
Email: zoningbylaw@saskatoon.ca