In 2019, housing in Saskatoon accounted for 24% of Saskatoon's community GHG emissions. Net Zero Homes are a critical part of the solution to fighting the climate crisis and reducing emissions.  
Net zero homes produce the same amount green energy (wind, solar, or geothermal) as they consume, in other words: 
energy created – energy used = 0 ​
To meet their energy needs through renewable energy, Net Zero homes are up to 80% more energy efficient than the average new home. Every part of the house is designed to ensure consistent temperatures throughout, prevent drafts, and filter indoor air to reduce dust and allergens. The result is exceptional energy performance and comfort, which creates a better living experience.  
Net Zero homes consume on average 60% less energy per year, than the average new home and 78% less energy than homes built 30 years ago.  
The Home Energy Loan Program (HELP) is collaborating with the Canadian Home Builders Association (CHBA) to deliver the Towards Cost‐Effective Net‐Zero Energy Ready Residential Renovations project to HELP participants.  
HELP will provide a maximum loan of up to $60,000, and a $10,000 rebate to approved HELP participants who perform a Net Zero home renovation that meets the CHBA requirements. Please let us know if you are interested in renovating your home to Net Zero!! To understand what the benefits are for the homeowner please read the What's In It For Me. A homeowner who is interested will also find it valuable to look at the Homeowner Net Zero Renovation Project Path, Ideal Home for a Net Zero Renovation, and the Net Zero Exterior Renovation Stages before contacting your CHBA Qualified Net Zero Energy Advisor.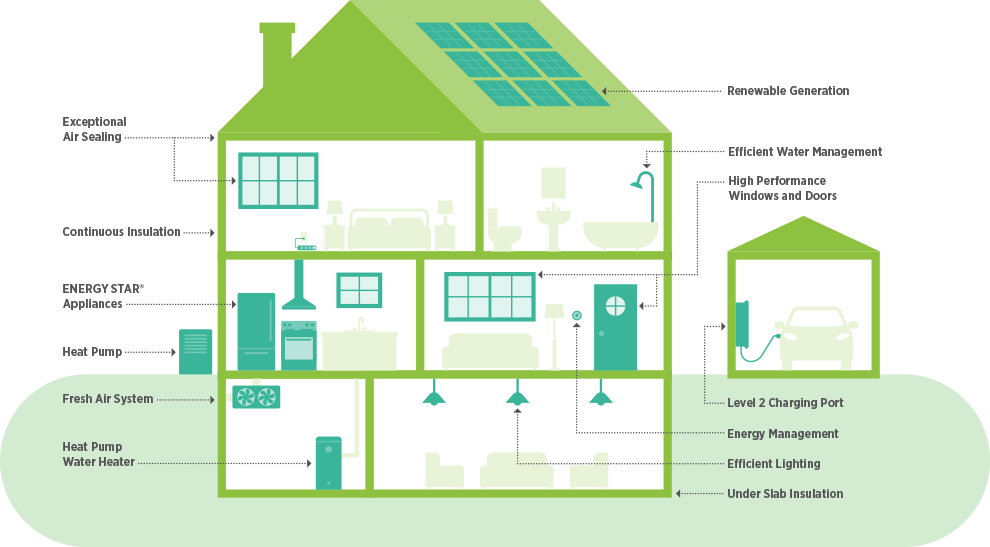 Benefits of a Net Zero Home

 Has lower utility bills and protects you from future energy price increases.  

 Is resilient to weather extremes, power outages, as they need so little energy to operate and can stay warm in the winter and cool in the summer more efficiently.

 Is more comfortable, quiet, and durable due to more efficient and advanced construction methods and materials for heating, cooling, ventilation, and windows.

 Is healthier as a result of a filtered fresh air system that improves indoor air quality and reduces allergens.

 Minimizes the household's greenhouse gas emissions, contributing to the solution against climate change.

 Exceeds current building code requirements. Net Zero homes are built to higher standards than conventional new homes, a Net Zero Home is more durable – with high performance, warm windows and better insulated walls and roof.
How to make your home Net Zero

Net Zero homes can be achieved through renovations. Some homes can more easily achieve Net Zero than others, as it depends on the age, size and existing materials of a home. 

These 9 characteristics help you determine whether your house is a good candidate for a Net Zero Energy renovation or not. The more characteristics you can check off, the more likely you can achieve Net Zero through a renovation.  

Pre-1980s construction

Simple house shape

Old exterior wall finishes
Simple roof shape
Good solar aspect
Lots of space around the house (minimum of 4-5 feet)
No recent major upgrades
Low maintenance issues
Few or no observable hazards (asbestos, knob and tube wiring, etc.)

For more information, view the checklist provided by the Canadian Home Builders' Association or take the quiz.  

To create a Net Zero Energy home, there are three basic elements to consider when renovating your house:

Reduce the home's energy requirements.

A Net Zero home renovation focuses on significantly reducing a home's energy consumption, which can be achieved through the integration of a wide range of design strategies, technologies, products and techniques. Adding insulation, making the home air-tight, upgrading mechanical systems, and replacing windows and doors to reduce the amount of energy it needs to stay warm and cool and will reduce the need for an oversized renewable energy installation.

Include renewable energy systems to provide the amount of energy required to operate the home.
Operate the home efficiently with everyday choices.

Net Zero homes utilize smart devices to adjust temperature settings for space and hot water heating.  Smart outlets and lighting reduce the amount of power electronics and appliances use, and high efficiency Energy Star appliances can reduce electricity and water use.
Net Zero Home Improvements Include

 Increased Insulation
Including extra thick insulation for exterior walls, floors, roof/attic, and under basement slabs. Significant quantities of insulation will reduce heat loss in the winter and heat gain in the summer.

 Exceptional Air Sealing
Airtight seal around the building is key to minimize heating and cooling needs. Air sealing yields the greatest energy savings and improves the overall comfort of your home. Examples include adding spray foam or caulking to any cracks or gaps in electrical outlets, windows, light switches, light fixture sockets that go to the attic, and any holes or gaps between your home and outside. Adding weather stripping to all exterior doors is also a low-cost, high impact way to improve the air tightness of a home.

 High-Performance Windows and Doors
High performance triple pane windows made for our climate reduce heat loss, provide day lighting, and reduce the risk of condensation.

 Energy Efficient Mechanical Systems
Energy efficient, and properly sized heating, ventilation, and air conditioning equipment. Examples include a tank-less, solar or heat pump water heater, a high efficiency furnace, or a heat pump.

 Smart Devices
Adjust temperature settings for space and hot water heating and turns off electronics and appliances when not in use.

 Home Energy Monitoring Systems
Helps establish limits to energy usage and reduce unwanted energy use.

 EnergyStar - Lighting and Appliances
Substitute bulbs with LEDs or smart bulbs, replace dishwasher, fridge, stove, washer and dryer to reduce energy costs.

 Proper Ventilation  
Energy Recovery Ventilators (ERV) or Heat Recovery Ventilators (HRV) ensure a healthy home as they circulate stale air from the home while bringing in fresh filtered air into the home.

 Solar Panels
Generate your own clean power for lighting, heating, cooling, hot water, and appliances.

 Water Conservation
Low-flow toilets, faucets, and showerheads, and utilizing rain barrels to water plants reduces water consumption and utility bills.

 Natural Vegetation  
Prevent overheating inside the home and decrease the cost of cooling your home with trees and shrubs that provide shade and wind protection.
Canadian Home Builders' Association (CHBA) Net Zero Renovations

The Home Energy Loan Program (HELP) is collaborating with the Canadian Home Builders Association (CHBA) to deliver the Towards Cost‐Effective Net‐Zero Energy Ready Residential Renovations project to HELP participants.  

HELP will provide a maximum loan of up to $60,000, and a $10,000 rebate to approved HELP participants who perform a Net Zero home renovation that meets the CHBA requirements. Please let us know if you are already participating in HELP or on the waitlist and interested in renovating your home to Net Zero!!  

In 2015, the Canadian Home Builders Association developed a Net Zero Labelling Program, to provide the tools and resources for homes to achieve their Net Zero label through a deep energy renovation. The Net Zero Labelling Program provides the industry and consumers with a clearly defined and rigorous two-tiered technical requirement that recognizes Net Zero and Net Zero Ready Homes, and the builders and renovators who provide them. Since 2015, over 800 homes have been labelled in Canada to date. 

A Canadian Home Builders Association (CHBA) Net Zero Home is designed, modelled and constructed to produce as much energy (from on-site renewable energy systems) as it consumes on an annual basis.


A CHBA Net Zero Ready Home has the same energy performance as a Net Zero Home but the renewable energy system is not yet installed.  

 All the features of both Net Zero and Net Zero Ready Homes work together to significantly minimize each household's environmental footprint by preserving our natural resources and protecting against climate change.  

Renovators, along with Energy Advisors and other key participants, will be trained through CHBA's Net Zero Program to use the "house‐ as‐a‐system" approach focused on the building envelope and highly efficient technologies/equipment. 

W

hat are the requirements to achieve a Net Zero Home? 

 

Area

Net Zero Home

Requirement

 

Building Enclosure

 

Home insulation levels (effective RSI / R value)

 

Attic

 

RSI-11 / R-60 +

 

Above grade walls

 

RSI-7 / R-40 +

 

Below grade walls

 

RSI-3.5 / R-20 +

 

Basement slab

 

RSI-2 / R-10 +

 

Windows 

 

Triple or quadruple-pane windows, low-e film, argon gas, insulated spacer, casements

. SHGC 0.37/ U 1.2>

 

Airtightness

 

<1.5 ACH@50

 

Mechanical Systems

 
 

Heating and Cooling 

 

Air source heat pump & high efficiency natural gas furnace

 

Water Heating 

 

Gas instantaneous water heater

 

Ventilation 

 

Balance ERV

 

Other 

 
 

Solar ready

 
 

Energy monitor installed